Liquid silicone for making inserts for shoes
Product No:HY-E series
Brand:HONG YE JIE
Product Usage:The insoles made from liquid silicone rubber is soft and comfortable and has no obvious shock absorption effect. Among them, the heel soft buffer protection pad can effectively eliminate or alleviate heel pain, Relieve heel fatigue, specially designed for comprehensive and balanced absorption of plantar impact. It can effectively prevent and improve heel pain, knee pain, low back pain, and spinal lesions caused by foot.
Description of liquid silicone for making inserts for shoes
Transparent insole silicone rubber is an additive two-component liquid silicone rubber, It is made of high-quality silicone rubber, colorless and transparent in appearance, in the form of gel, and produced by professional technology.


Application of liquid silicone for making inserts for shoes
The insoles made from liquid silicone rubber is soft and comfortable and has no obvious shock absorption effect. Among them, the heel soft buffer protection pad can effectively eliminate or alleviate heel pain, Relieve heel fatigue, specially designed for comprehensive and balanced absorption of plantar impact. It can effectively prevent and improve heel pain, knee pain, low back pain, and spinal lesions caused by foot.


Features of liquid silicone for making inserts for shoes
1. Convenient 1:1 mixed ratio by weight

2. Room temperature vulcanized and heat acceleration
3. low viscosity, It has good fluidity and can inject nuances (such as micro components of integrated circuits)

4. It has good high and low temperature resistance and can be used in a wide temperature range (- 50 ℃ ~ 200 ℃)

5. The use of platinum chromium complex catalyst is non - toxic and odorless

6. The hardness can be changed freely from rubber state to liquid state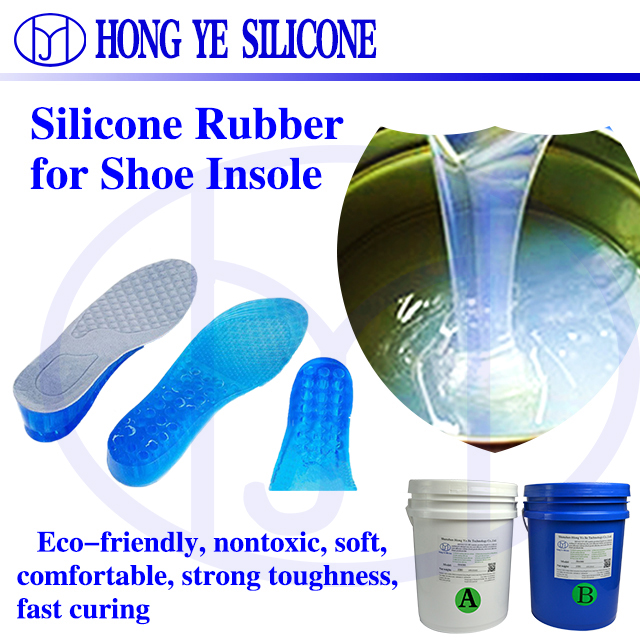 Notes
(1) Mix components a and B thoroughly before use
(2) The rubber compound shall be sealed and stored and used up within the safe operation period, otherwise it will solidify slowly and cause waste
(3) The curing speed of the compound has a certain with the temperature. If it is accidentally splashed, wash it with a large amount of water


Package
1kg/drum; 20kg/drum;25kg/drum;200kg/drum.


Shelf life shoesTwelve(12) months when stored under dry and cool place by original package under 25℃