TIN BASED MOLD MAKING SILICONE RUBBER APPLICATIONS
HONG YE JIE provides various hardness for tin base silicone rubber for mold making, such as 5 shore A, 10 shore A, 15 shore A, 20 shore A, 25 shore A, 30 shore A and 35 shore A. Different material, different size and different pattern request different hardness of silicone rubber.


TIN BASED MOLD MAKING SILICONE RUBBER APPLICATIONS
Tin based mold making silicone rubber is primarily intended for poly resin crafts,PU crafts,PU resin crafts ,gypsum crafts , unsaturated resin crafts, lighting and candles crafts ,plastic toy , stationery gifts crafts industry, a large statue Buddha, relievo furniture, furniture decorative materials, statues Buddha, artifacts copied, building decoration materials, large- scale cement mold, artificial fossils Factory,Europe component factory, simulation landscapes, animals and plants sculpture, sandstone crafts and so on.





TIN BASED MOLD MAKING SILICONE RUBBER FEATURES
Tin base mold making silicone rubber is a kind elastic silicon rubber mold which features with resistance to deformation, high-temperature, acid-alkali and expansion as well as high reproduction times, good tensile strength ,tear strength and elongation. For small products mold making, we advise you make in pouring way.


TIN BASED MOLD MAKING SILICONE RUBBER USING OPERATIONS
If the customer wants to make large products and large size molds, the mold should be made of silicon rubber with high hardness.
On the contrary, if the mold with fine and precision patterns, it should be made of silicon with low hardness.


The amount of the curing agent depends on the actual requirements of the customer.
If molds requiring fast drying and demould,more curing agent is needed;
contrarily, if molds requiring slower drying and demould, less curing agent is needed.
(Note: our company does not recommend you to add silicone oil. If a special soft silicon mold or fine detailed and complex patterns products are required, 5%-10% silicone oil can be added to soften the mold for easy demould.)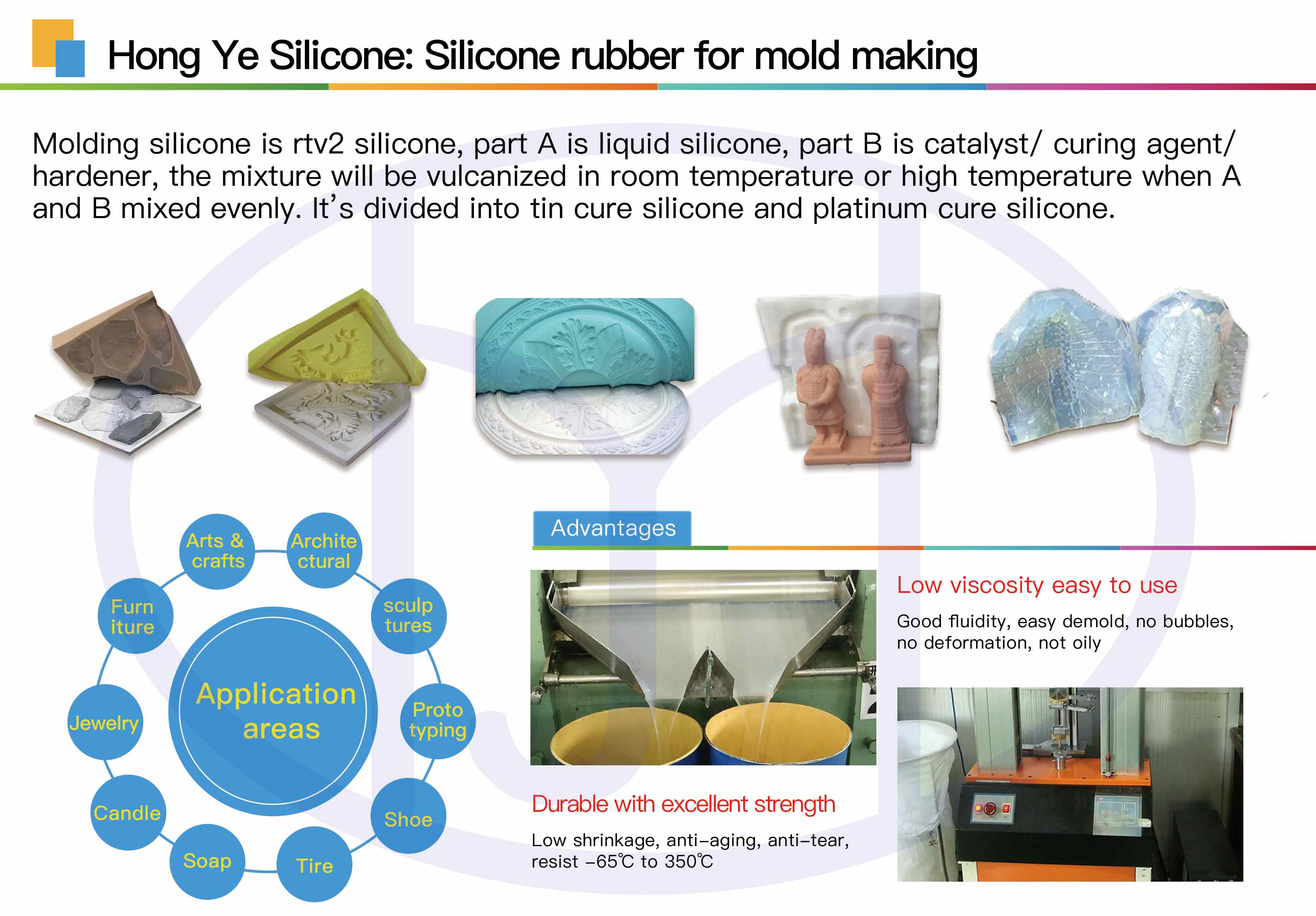 Frequently asked questions of moulding silicone rubber
Why does the silicone rubber mold have few molding times?
The silicone rubber mold has few molding times is due to follwoing reasons: adding too much silicone oil which will destroy the molecular of silicone rubber;
Making the mold for small and fine detailed products with higher hardness silicone rubber which is easy to break;
Making the mold for large products with soft silicone rubber which will reduce the tensile and tear strength of the mold, and the mold will have deformation.
Thus, we should choose the proper silicone rubber to make the mold for suitable products.