Bronze Casting Molding Silicone
Product No:HY-6 HY-5 HY-E series
Brand:HONG YE JIE
Product Usage:Bronze molding silicone is perfect molding material.and suitable to make mold for bronze casting,Lost wax bronze ,concrete stone, cement casting , gypsum decorations, plaster product, resin craft, clay casting ,soap mold,ceramic casting ,Casting for Statue,Buddha,Christmas ornaments, sculptures, figures etc
BRONZE CASTING MOLDING SILICONE DESCRIPTION
Silicone for bronze casting is kinds of two-component condensation room-temperature curing liquid silicone rubbers,part A is silicone material ,part B is curing agent(catalyst),the mixed ratio is from 100:2 to 100:5 (large adjustment range of hardness),as it excellent tear strength ,low viscosity and many times repeating molds ,it can be widely used according to different purposes.


BRONZE CASTING MOLDING SILICONE APPLICATION
Bronze molding silicone is perfect molding material.and suitable to make mold for bronze casting,Lost wax bronze ,concrete stone, cement casting , gypsum decorations, plaster product, resin craft, clay casting ,soap mold,ceramic casting ,Casting for Statue,Buddha,Christmas ornaments, sculptures, figures etc


BRONZE CASTING MOLDING SILICONE FEATURES
1.Excellent tensile and tear strength with high copy times
2.Good resistance to weather, temperature, aging, acid
3.Favorable tension,resistance to deformation
4.Good characteristics of easy-operation
5.Various hardness with 20-40 shore A
6.long shelf-time &lifetime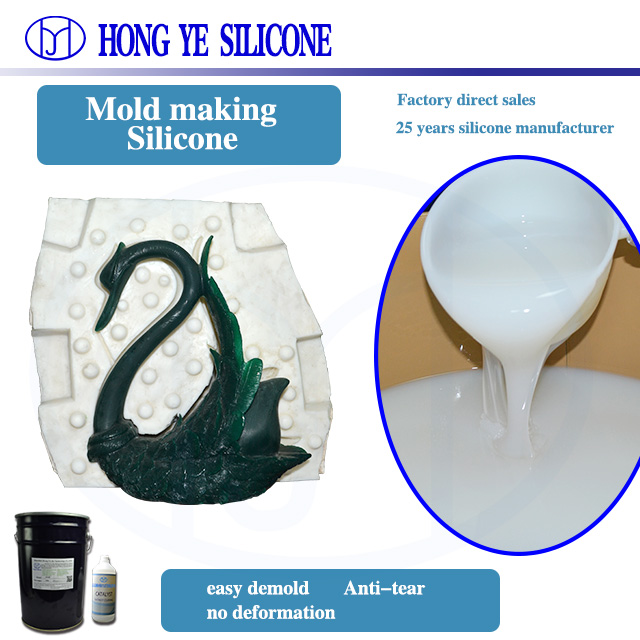 BRONZE CASTING MOLDING SILICONE OPERATION
Step 1: prepare the original molds Prepare an perfect bronze and clean it totally(the release agent can be detergent, soapy water and Vaseline)before operation .Take 100g part A and 2~5g part B strictly and mix them evenly. *Notes:Make sure the bronze and operation tool cleaned up totally to avoid uncure problem .

Step 2: Vacuum pumping Without exception, this step takes less than 10 minutes.(normally is 5munites) Otherwise, it will cause cross linking reaction, and no more further steps will be available.

Step 3: Pouring casting or Brushing operation 1. For simple pattern products we suggest use pouring operation way, which will be very easy to operate and demould. Pourable silicone require light viscosity which will be easy to flow smoothly and easy to de-air .

2.For delicate pattern products we suggest use brushingoperation way.which can copy the pattern exactly . brushing way require high viscosity which won't be easy to flow away and easy to brush

Step 4:Demoulding: After 35 hours later, can demould the silicone mold,It's will be better for mold to demould after 24 hours
Notes :The curing temperature and curing time can be adjustable according to the operation conditions.




BRONZE CASTING MOLDING SILICONE SHELF LIFE
Twelve(12) months from date of shipment when stored under 25℃ in the original sealed packages at dry and cool places.


BRONZE CASTING MOLDING SILICONE PACKAGE
1kg/jar, 5kgs/drum, 20kgs/drum, 25kgs/drum, 200kgs/drum and vacuumed packing is available.