BRUSHABLE MOLDING SILICONE LIQUID DESRIPTION
Brushable molding silicone is the two-component & room-temperature curing liquid silicone rubber with suitable viscosity for brushing molding method, sound fluidity, large adjustment range of hardness from 15 shore A to 50 shore A.Part A is a flow able liquid silicone,part B is the catalyst. And the mixed ratio of tin based silicone is 100: 2 to 100:5, and 1:1 or 10:1 for platinum based silicone.


BRUSHABLE MOLDING SILICONE LIQUID APPLICTION
Brushing molding silicone is perfect for mold making for resin buddha and resin statuary, also for ceramic statues ,polyurethane statuary, artificial stone , wax casting, gypsum, GRC, concrete product, resin products, christmas ornaments, sculptures, figures etc.


BRUSHABLE MOLDING SILICONE LIQUID CHARACTERISTIC
1. Durable silicone mold, with much replication times

2. Suitable for brushing molding

3. High-temperature resistance

4. Easily release air to avoid bubbles

5. Various hardness from 20 to 40 shore A

6. Low shrinkage

7. Room temperature cure in hours or Heat-accelerated cure

8. Very flexible to demould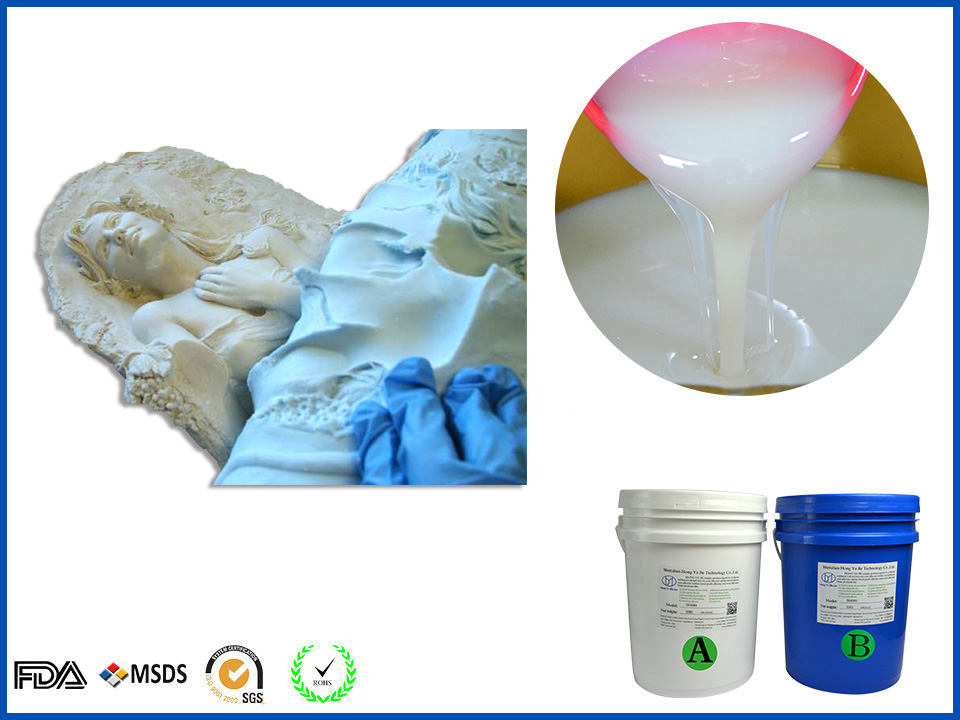 BRUSHABLE MOLDING SILICONE LIQUID OPERATION
1.Firstly prepare the model mold or the product to be duplicated, take certain amount of the silicon rubber, add curing agent, and mix evenly and they are ready for use. One pair of mold can be solidified and formed in 2-3 hours.

2.Secondly, brushing the liquid mixture into the original mold.

3.Thirdly, demould the silicone mold after 3-5 hours. Then the molding is done.


BRUSHABLE MOLDING SILICONE LIQUID NOTES
1.The curing rate of this product is closely relevant to the temperature. The higher the temperature is, the faster the curing speed will be.

2.Users can choose the curing agent according to the weather condition, and adjust the amount of the curing agent in order to reach the appropriated curing rate.


BRUSHABLE MOLDING SILICONE LIQUID SHELF LIFE
Twelve(12) months from date of shipment when stored under 25℃ in the original sealed packages at dry and cool places.


BRUSHABLE MOLDING SILICONE LIQUID PACKAGE
1kg/jar, 5kgs/drum, 20kgs/drum, 25kgs/drum, 200kgs/drum and vacuumed packing is available.