INTRODUCTION
Actually many electrical equipment failures are caused by moisture and water. How to prevent moisture and dehumidification of electrical equipment has always been the concern of power operation and maintenance personnel.

Think about the environmental conditions of transformer, have to be exposed to the sun, wind, rain and getting wet, insects, ants and mouse go inside the transformer box always too which hurt the transformer box.





ADVANTAGES
HY-230 silicone rubber can solve above problems with these advantages: Flame retardant UL: 94V-0 [ E354635 ], waterproof, moisture-proof, dust-proof, prevent small animal invasion, fire retardant, and resistant to all kinds of harsh environment: anti-corrosion, can withstand all kinds of harsh environment.

HY-230 is at top in this field which is the most widely used in China, we sold hundred of tons of HY-230 at 2020, mainly to goverments' projects, as a sealing and potting material for outdoor substation box like pictures.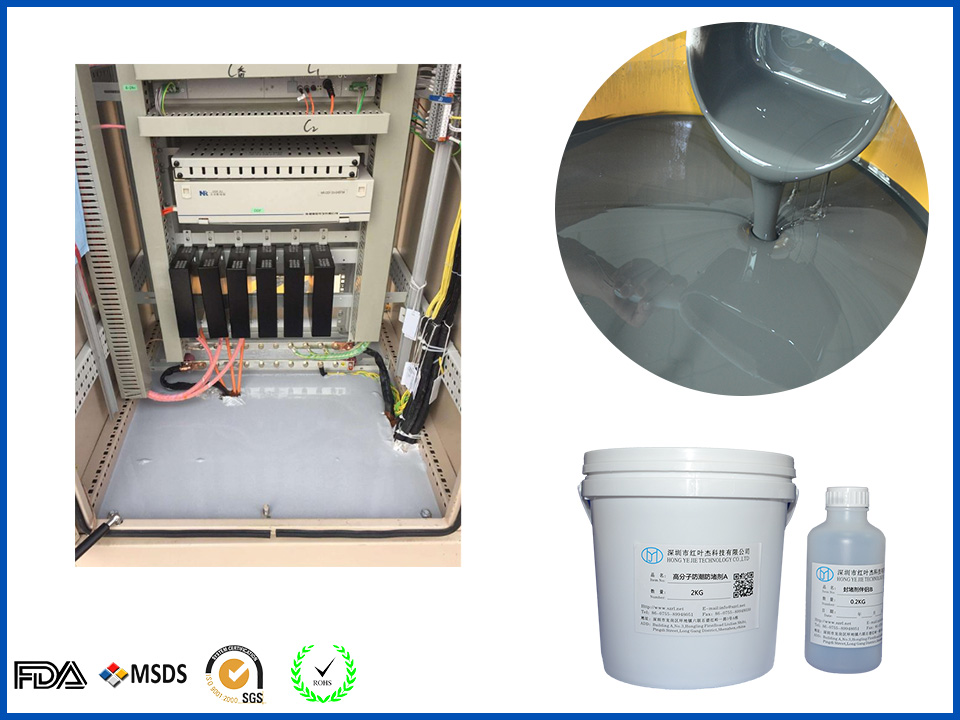 SITE CONSTRUCTION
NATIONAL HIGH TECH ENTERPRISE ▏STANDARDIZED PRODUCTION ▏ONE STOP INTEGRATED SOLUTION PROVIDER

Mix ratio: two in one polymer material with high active chemicals, organic silicon compound. The ratio of A and B is 10:1.

Stir evenly: mix a and B for about 2-3 minutes, subject to uniform stirring.

Pour into the cabinet: after mixing, the plugging agent still has good fluidity within the operation time range, automatically flows into the target area, does not need to be smoothed, and the construction is simple. It can quickly and conveniently flow through the complex through pipes or cables and other cabinets, fill the irregular surface, and finally form a solid shape.

Curing performance: after the plugging agent is stirred evenly, there is about 20 minutes of operation time. After the surface of the AB mixture is dry, the field application can be completed, and a solid closed cell matrix can be formed in 1-2 hours.

Chemical resistance: it can prevent the chemical corrosion of base from gasoline, petroleum, dilute acid and alkali, most unsaturated hydrocarbons.

Re repair: new cable or secondary construction can be carried out with woodworking knife. After completion, pour some moisture-proof plugging agent into the opening to seal the area. After the new cable or pipeline is installed, the area can be re sealed by using some moisture-proof plugging agent, which is convenient for repair.