Description of rtv-2 silicone
There are two kinds of rtv-2 silicone which are two parts, one is addition cure silicone rubber with mixing ratio is 1:1 or 10:1, other one is condensation cure silicone rubber with mixing ratio is 100:2 to 5.


Application rtv-2 silicone
1. For mold making:GRC, plaster, decoration products, stone, art stone, cement, concrete, candle, soap, resin products mold, tire mold, shoe mold, bag hardware fitting mold.

2. For Food products mold making: cake, chocolate, candies, sweets, special food mold and so on.

3. For Vacuum bag making

4. For life casting or body parts making: head, hand, foot, thorax, lung, nose, ear, mask, film and television properties, sex toy, penis, makeup special effect and so on.

5. For Electronic potting: Used for PCB, bonding power cord, power boxes, ultra-thin computers, game consoles, digital cameras, LED, LED light, solar panel, air filter and so on.
6. For pad printing making:making silicone pad for toy. For textile coating and trademark making: stockings, jacket, shirt, trousers, shoe, textile products and so on.

7. As a filling material of liquid silicone foam: making silicone foam sheet, silicone foam board, silicone foam mat, silicone foam strip, silicone foam roller and so on.

8. As a buffer cushion material: making shoe insoles, breast prosthesis, bra, artificial buttocks, hip pads and so on.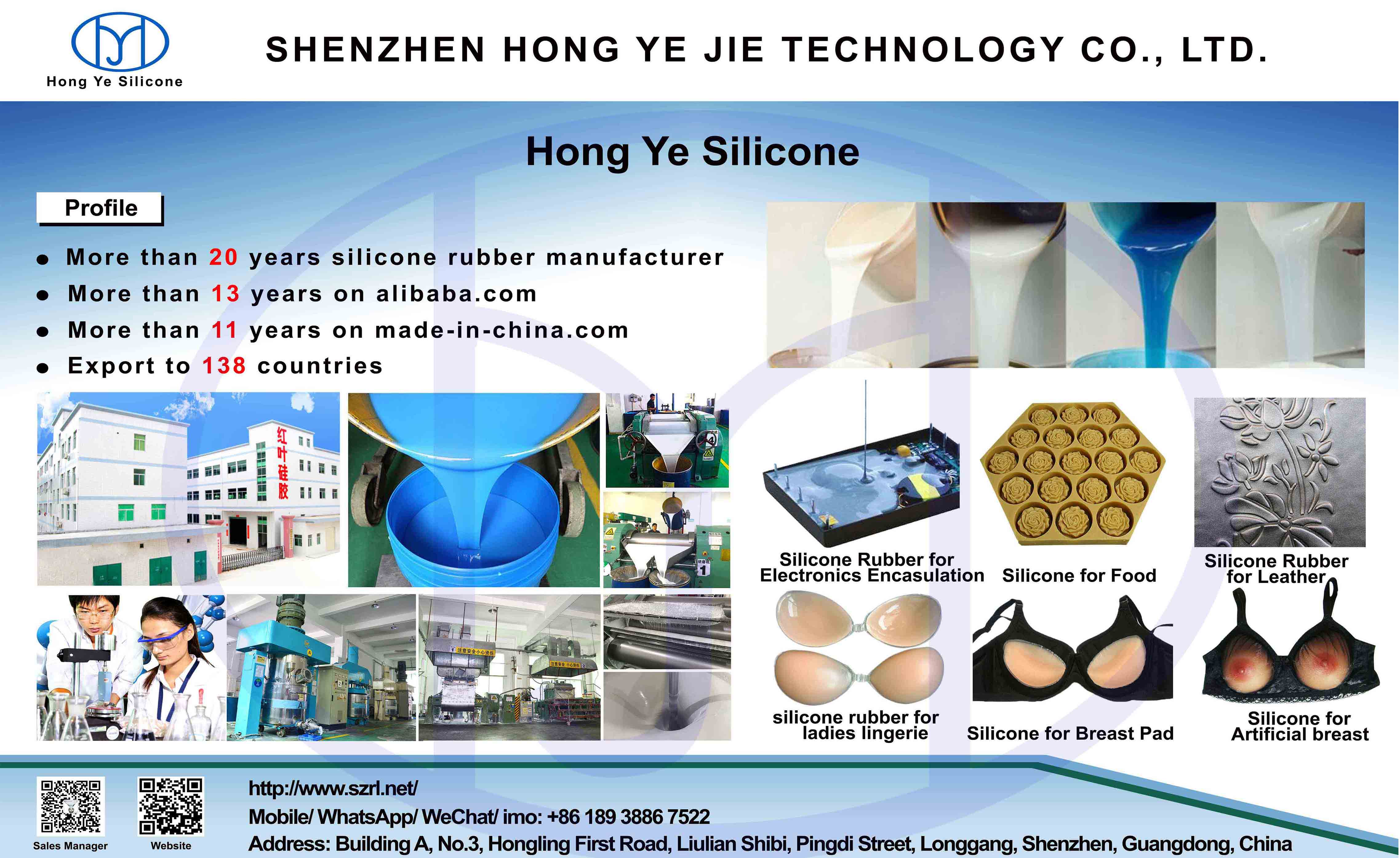 HONG YE rtv-2 Silicone dvantages
1. Not oily.

2. Longer shelf life.

3. More durable, stronger tear and tensile strength, good resistance to acid and alkali.

4. Lower shrinkage, keeps the silicone mold or silicone finished products in perfect size.

5. Easy to repeated cleaning, keep good surface.

6. Better resistance to high temperature.


HONG YE JIE Profile & Advantages
As the global leading silicone rubber manufacturer with 20 years experience of silicone rubber's production, and 12 years silicone rubber's exporting experience, Shenzhen Hong Ye Jie Technology is the BIGGEST EXPORTER of liquid silicone rubber of China since 2013, and our silicone rubber has been well-received by 138 countries and areas with 18 experts R&D team!


HONG YE Service
Provide free sample, free operation technique of rtv silicone rubber


HONG YE SILICONE RUBBER Packaging & Shipping
Sample packaging: 1kg
Cargo packaging: metal drum and plastic drum: 5kg, 20kg, 25kg and 200kg
Shippping: Transport as non-dangerous Article