DESRIPTION OF LIQUID SILICONE FOR LOVE DOLLS
It is a two-component, which are easy to use platinum catalyst mixed 1A:1B or 10A:1B ,which becomes soft elastic material after vulcanization.This rtv-2 silicone rubber is specially making Vaginal vibrator ,love toys and love dolls for adult sex fun. Generally, colorless, skin-colored / flesh tone silicone rubber will be more popular for this application of making adult toys.


APPLICTION OF LIQUID SILICONE FOR LOVE DOLLS
1) adult sex fun products, sex toys and sex dolls, love toys and love dolls, such as plane cup, silicone O-ring, penis ring, artificial penis, artificial dick penis, vibrating dildo, silicone vaginal vibrator, silicone vagina, fake hip, simulative female lip, silicone female body, silicone robot, simulation Sex organ, and so on.

2) making silicone prosthesis and silicone dummies, such as artificial limbs, silicone baby, human body shape, silicone mask/ life like masks etc.

3) making medical grade silicone rubber,such as silicone nipple, silicone foot health products and silicone chiropody's products, silicone shoe insole, forefoot insole, heel cups, toe spreader, toe cap, and silicone child toys.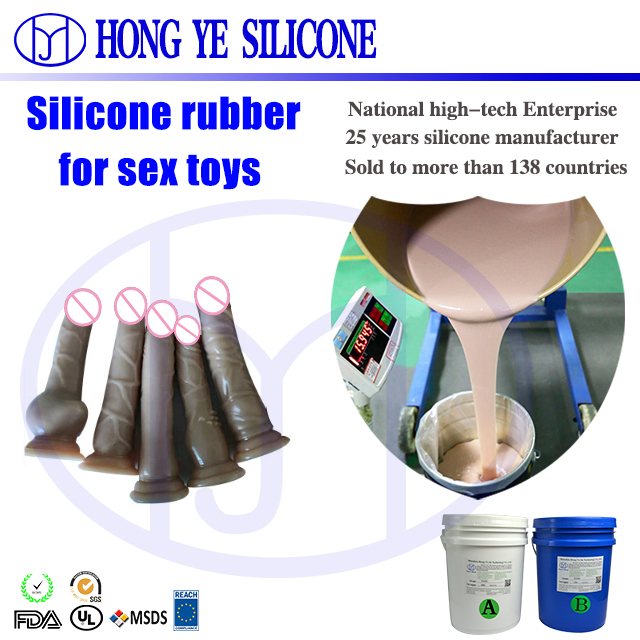 CHARACTERISTIC OF LIQUID SILICONE FOR LOVE DOLLS
1.Good tensile strength and tear strength,Almost nil shrinkage
2.exceptional fluidity and good operability
3.Food grade silicone (environmental,odorless and nontoxic)
4.long shelf-time & lifetime
5. High tear and tensile strength
6. High resistance to high temperature and aging(resist -60 to 200℃)
7.Equipped with RoHs REACH SGS ISO9001 ISO14001 etc. certificate


USING INSTRUCTION OF LIQUID SILICONE FOR LOVE DOLLS
Mix part A and part B evenly according to the mixing ratio of 1: 1, and can be poured after deair the bubbles. The operating time depends on the temperature; The curing time is 15-30 mins at the room temperature; And the curing time can be reduced to 10 minutes with the temperature increased to 80~120° C. The operating time of the room temperature quick drying type is less than 20 minutes and the curing time is 0.5 hour. The product can be produced in skin color, yellow, etc. According to the customer's requirements.


SHELF LIFE OF LIQUID SILICONE FOR LOVE DOLLS
Twelve(12) months from date of shipment when stored under 25℃ in the original sealed packages at dry and cool places.


PACKAGE OF LIQUID SILICONE FOR LOVE DOLLS
1kg/jar, 5kgs/drum, 20kgs/drum, 25kgs/drum, 200kgs/drum and vacuumed packing is available.