MOLDING SILICONE RUBBER APPLICATION
Liquid RTV mould making silicone rubber is a kind of flexible mold making material with different hardness from 10 shore A to 40 shore A,

* Molding silicone is suitable for making molds for industry production, such as building decorations of plaster, gypsum, concrete, art stone, marble, cement, reinforced plastic, fiber glass resin, GRC, GFRC etc. Crafts of PVC, plastic, low melting point alloy, wax etc. Arts of candle, soap, relief etc. Furniture of polyurethane wood imitation, resin, polyester, polyurethane, urethane etc. sculptures of clay, mud, pottery, terracotta, ice, ceramic, statues, figurine etc.

* Molding rtv silicone is also suitable for manual mold design of shoe sole, airplane model / flying model, mobile cover / mobile shell, toys etc.

* And this mould grade rtv silicone is also a precast and casting material, suitable for aluminum casting, lost wax casting, bronze casting, tire molding, foundry mold etc.

* And transparent platinum cure silicone rubber is also suitable for molding resin rhinestones, artificial jewelries, crystaline and so on with its high transparency.

* For food grade mold making silicone rubber, it's used for making silicone molds for confection, chocolate tray, jelly tray, sugar tray, candy, cake, biscuit, cracker, ice cream, ice sculpture, butter, fondant, bread, baking and other food decorations.

* Some times, we also call life casting silicone rubber as a kind of mold making silicone rubber, because sometimes we use this rtv-2 skin safe silicone rubber to brush on human body to make the mother mold of arms and legs, face, breast etc. Which will help to get the silicone molds to make silicone prosthesis, silicone organs and silicone dummies.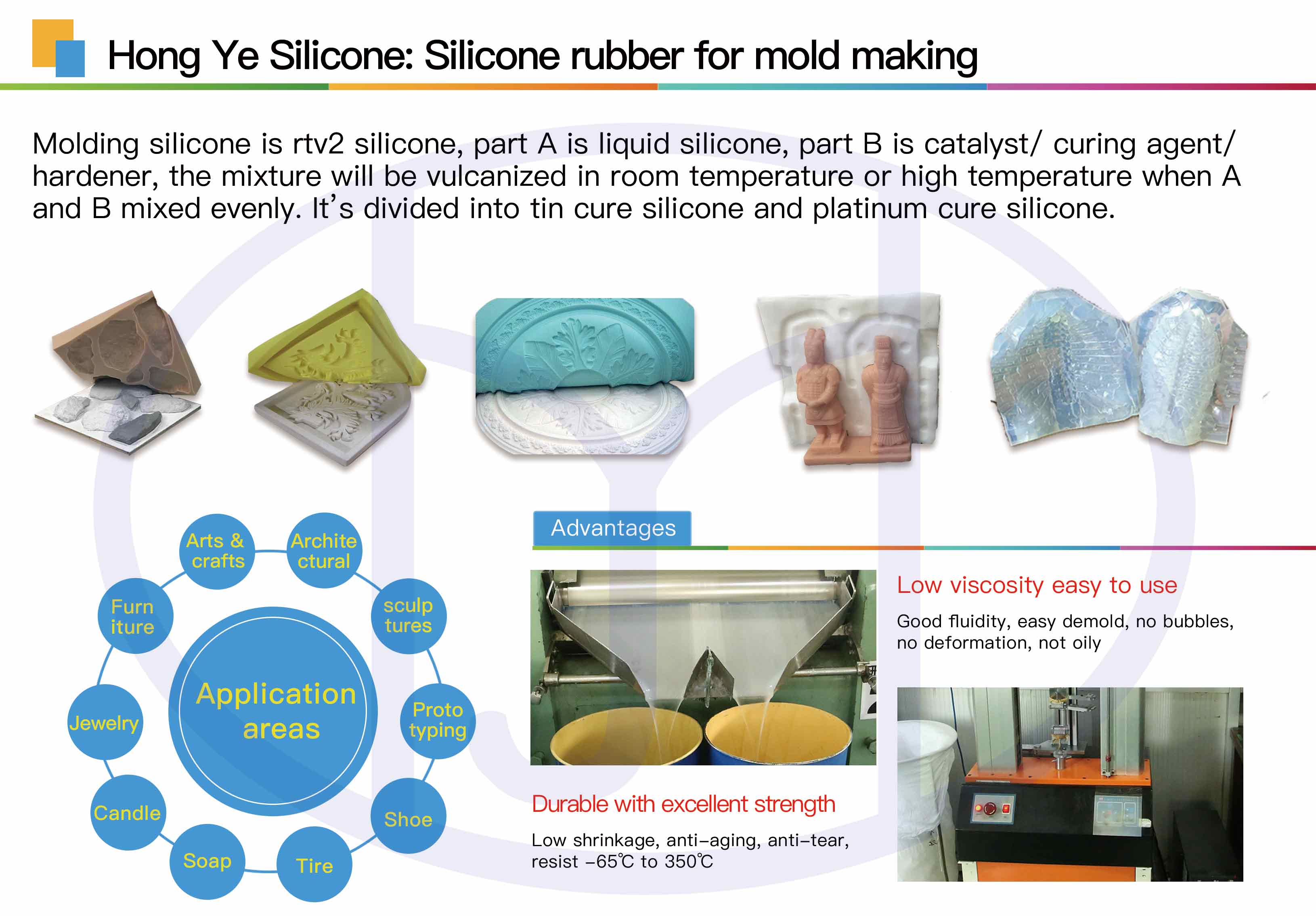 MOLDING SILICONE RUBBER DESCRIPTION
Our RTV-2 Molding materials are general called two-component room temperature vulcanization liquid silicone rubber with excellent fluidity and good operational performance. Add curing agent to liquid silicone at the condition of room temperature, stir the mixture evenly, then pour or brush the liquid mixture to the mother mold, then after 2-6 hours, a flexible silicone rubber mold will be obtained with resistance to deformation, high-temperature, acid and alkali and expansion. (Note: Generally, there are two molding methods: pouring molding, brushing molding.)


MOLDING SILICONE RUBBER INSTRUCTION
1.If the customer wants to cast large size products with simple patterns , we should choose hard liquid silicone. On the contrary, if the mother mold is small size with fine details, we should choose soft rtv silicone.
- For products size (20cm-80cm) with intricate designs, 20-25 shore A is suitable. with simple designs, 25-30 shore A is suitable.

- For products size (80cm-150cm) with intricate designs, 25 shore A is suitable. with simple designs, 30-35 shore A is suitable.

- For products size (more than 150cm) with intricate designs, 25-28 shore a A is suitable. with simple designs, 35-40 shore A is suitable.

2. The amount of the curing agent depends on the actual requirements of customers. If molds requiring fast drying and demould, more curing agent is needed; contrarily, if molds require slower drying and demould, less curing agent will be needed. (Note: our company does not recommend that customers add silicone oil. If customers surely need quite soft silicone mold or molding for fine detailed and complex patterns products, 5%-10% silicone oil can be added to soften the mold for easy demoulding.)




MOLDING SILICONE RUBBER PACKAGE
1 kg/jar, 5 kg/drum, 20 kg/drum, 25 kg/drum, 200 kg/drum and vacuum package is available.


MOLDING SILICONE RUBBER SHELF LIFE
Twelve(12) months when stored under dry and cool place by original package under 25℃ .