FOOD GRADE SILICONE RUBBER APPLICATION
Liquid food grade molding silicone rubber actually is a platinum catalyst silicone rubber which is totally non toxic, specially used for food molding, such as making silicone molds for confection, chocolate, jelly, sugar, candy, cake, cupcake, biscuit, cracker, ice-lolly, ice cream, ice sculpture, butter, fondant, bread, bakery, baking etc. Generally, silicone rubber for food tray will be more popular since food such as chocolate and sugar are too small size, so our customers generally make silicone rubber tray, such as chocolate tray, sugar tray etc.
Meanwhile, Food grade molding silicone rubber is also perfect for molding building decorations, arts and crafts, sculptures, furniture, manual mold design, shoe molding, tire molding, rapid prototype molding, foundry casting, lost wax casting, artificial jewelries molding and so on.


FOOD GRADE SILICONE RUBBER ADVANTAGES
- FDA certified - The silicone mold is more flexible than resin mold, gypsum mold with softer hardness from 10-40 shore A.

- Low shrinkage less than 0.1%

- Longer service life (5 years) of this silicone mold than condensation cure silicone mold, with excellent UV-irradiation resistance and aging resistance

- High temperature resistance

- Environmental, odorless and nontoxic

- Good flexibility, permeability and insulativity




FOOD GRADE SILICONE RUBBER DESCRIPTION
Our RTV-2 Molding materials are general called two-component room temperature vulcanization liquid silicone rubber with excellent fluidity and good operational performance. Add part B into part A, stir the mixture evenly, then pour or brush the liquid mixture to the mother mold, then after 2-6 hours, a flexible silicone rubber mold will be obtained with resistance to deformation, high-temperature, acid and alkali and expansion.


FOOD GRADE SILICONE RUBBER INSTRUCTION
If you'd like to make silicone mold for each piece of chocolate, sugar and so on, it's better to choose soft silicone rubber for example 15 shore A silicone, contrarily, if you would like to make silicone mold of food tray for chocolate tray, sugar tray, cake tray, then it's better to choose hard silicone rubber such as 35 shore A silicone.


FOOD GRADE SILICONE RUBBER NOTICE
1. Since food grade silicone rubber is a kind of platinum cure silicone rubber, so in order to avoid no curing problem, it cannot mix with condensation cure silicone rubber, organic matter which is containing N, S, P organics and ionic compound like Sn, As,Hg, Ph. What's more, please do not smoke when operating the food grade silicone rubber, otherwise, it will cause to no curing problem too.

2, The solidification of platinum cure silicone rubber is particularly affected by temperature, higher the temperature is, faster the curing time will be.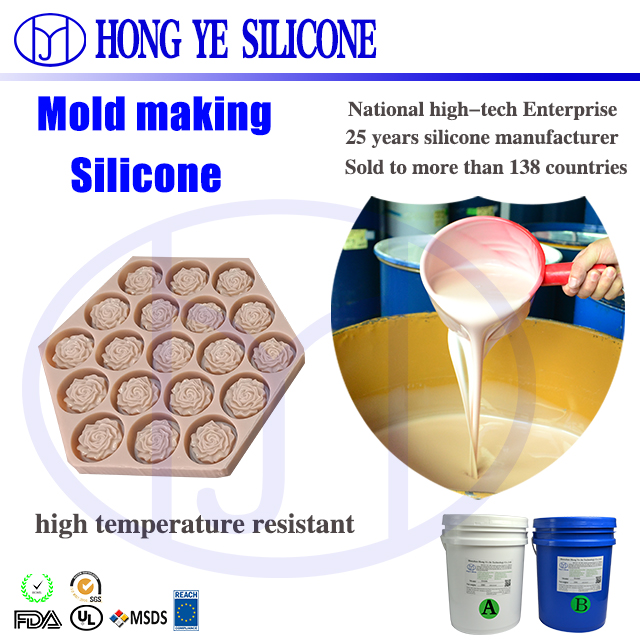 FOOD GRADE SILICONE RUBBER PACKAGE
1 kg/jar, 5 kg/drum, 20 kg/drum, 200 kg/drum and vacuum package is available.


FOOD GRADE SILICONE RUBBER SHELF LIFE
Twelve(12) months when stored under dry and cool place by original package under 25℃ .