CLIMBING HOLDS MOLDING SILICONE DESCRIPTION
Molding silicone for climbing holds is generally named two-components silicone rubber, Part A and part B. It features an exceptional fluidity and good operability. The mixed ratio is from 100: 2 to 100: 5 (large adjustment range of hardness), mainly be suitable for making molds application.


CLIMBING HOLDS MOLDING SILICONE APPLICATION
RTV-2 liquid molding silicon of climbing holds making is perfect for make molds either for polyurethane climbing holds, resin climbing holds, climbing walls, as well as plastic toys, lighting and candles crafts, manual mold design, PVC plastic molds , cement product molds, melting point alloy molds, alloy toy craft works, plastic toy craft works, small gifts and stationery, and other superior manual mold design with middle size and simple or intricate patterns.


CLIMBING HOLDS MOLDING SILICONE FEATURES
1.No-deformation and high degree of precision in reproduction

2.Excellent tensile and tear strength ,Favorable tension, low shrinkage

3.Good characteristics of easy-operation and de-molding

5.Easy for operation (mixing ratio from 100:2 to 100:5)

6.Excellent non-stick effect ,non Oily

7. Low viscosity ,Good fluidity, good for pouring method

8.Good resistance to weather, temperature, aging, acid & aging-Proofing.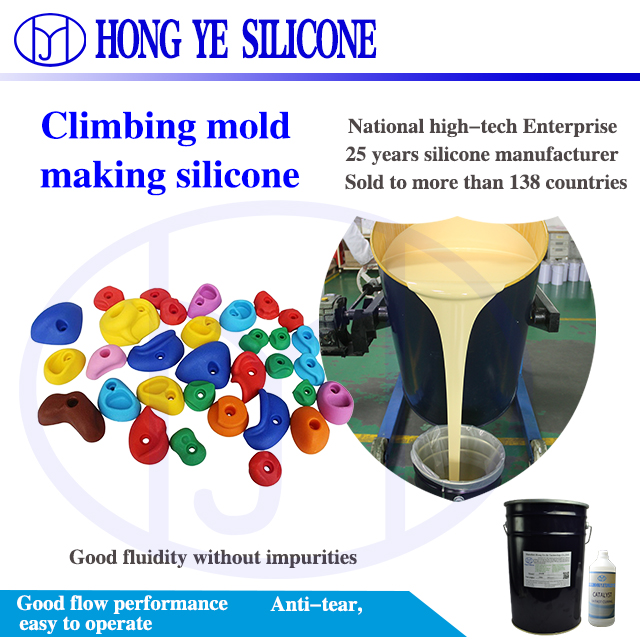 CLIMBING HOLDS MOLDING SILICONE OPERATION
1.Firstly prepare the model mold or the climbing holds to be duplicated, take certain amount of the silicon rubber, add 2-5% curing agent, and mix evenly and they are ready for use. One pair of mold can be solidified and formed in 2-3 hours. 2.Secondly, it is pouring or brushing the liquid mixture into the original mold. 3.Thirdly, demold the silicone mold after 3-5 hours. Then the molding is done.


CLIMBING HOLDS MOLDING SILICONE NOTES
1.The curing rate of this product is closely relevant to the temperature. The higher the temperature is, the faster the curing speed become. Users can choose the curing agent according to the weather condition, and adjust the amount of the curing agent so as to reach the appropriated curing rate.

2.Both Pouring or brushing operation methods for making climbing holds silicone rtv are ok .you can chose the best one as your preference, you can provide any viscosity as your requirement.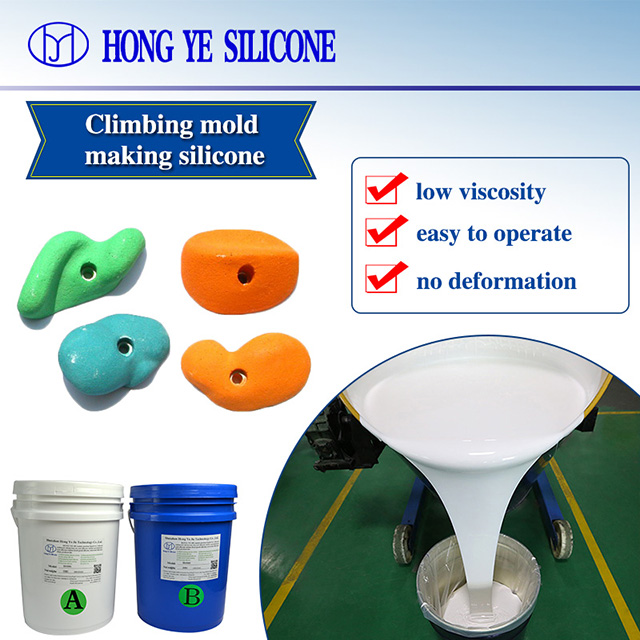 CLIMBING HOLDS MOLDING SILICONE SHELF LIFE
Twelve(12) months from date of shipment when stored under 25℃ in the original sealed packages at dry and cool places.


CLIMBING HOLDS MOLDING SILICONE PACKAGE
1.1kg/jar, 5kgs/drum, 20kgs/drum, 25kgs/drum, 200kgs/drum and vacuumed packing is available. 2.This kind of product is non-dangerous product, which could be transported as general chemicals.